Ypapanti Eye Clinic is licensed by EOM (National Transplant Organization) and has a specialized corneal transplant and topography department which is staffed by highly trained and experienced physicians and scientific personnel, regularly updated on the latest developments in ophthalmology.
Additionally, the clinic implements a management system according to ISO 9001: 2008 standard
5 surgeries are located on the 1st and 2nd floor, covering an area of 370m2 and are able to accommodate 60 operations a day.
All operating rooms are fully equipped to handle simple, as well as major eye surgeries, performed either with local or with general anesthesia. Examples include:
• Corneal transplant
Operations:
• Retinal
• Glaucoma
• Strabismus
• Cataract
• Vitrectomy
• Lacrimal apparatus and numerous minor operations such as chalazion, pterygium, cysts, xanthelasma etc.
For optimal performance of the aforementioned operations 5 operating rooms are equipped with the following machines:
• 3 Stellaris vitrectomy machines by Bausch & Lomb
• Endoleizer
• 4 INFINITY phacoemulsification machines by ALCON
• 3 Stellaris phacoemulsification machines by Bausch & Lomb
• 2 Möller Vedel microscopes
• 4 Zeiss microscopes
• 1 Topcon microscope
• 1 Narcomat anesthesia machine
Eye surgeries now have the advantage of being quick, painless and effective.
In most cases the patient is operated on and leaves the same day.
For the required recovery time, as well as for most severe cases Ypapanti has modern refurbished and pleasant rooms for the convenience of patients and their attendants.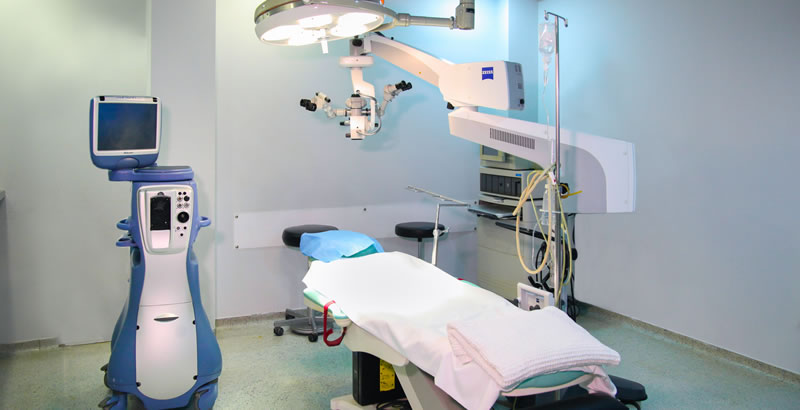 Personnel
Since 1979 YPAPANTI (Candlemas) eye clinic is available to ophthalmologists, providing equipment and support for the systematic and effective treatment of their patients.
The renewal of the eye clinic is not only limited to the facilities. The human resources of the clinic have been respectively enriched with scientists of all required specializations, and with experienced and qualified nursing staff.
Specifically, at your service to meet your needs are:
A Pathologist
An anesthesiologist
Three surgical assistant ophthalmologists
A surgery supervisor
5 surgery nurses
4 attending nurses